Entering NLTTA events
Just to clear up a bit of confusion about entering the NLTTA events.
The only events where the NLTTA want one entry per club is for the 2 Combined Club events.
That's the 10 on the 7th March and the 25 on the 20th September.
All the other events you enter as normal as indicated in the CTT handbook (usually via the CTT website).
Hope that's clear now.
---
Eden Epic Cycle Sportive - Penrith - A great day out
A fantastic day for the 60 mile Eden Epic Sportive up in Penrith. It really is a great route on quiet roads, and the weather just made it that much more enjoyable. 11 riders from the club (1st and 2nd claim) took part, plus a few other local lads that will be familiar. For info (and I know it's not a race, but I stick to my definition that they're a long hilly time trial - with food), the club times were as follows...
| | |
| --- | --- |
| Rider | Time |
| Glenn Rhodes | 3:13:33 |
| Allan Nelson | 3:44:15 |
| Dane Chapples | 3:49:03 |
| Andy Stubbs | 3:53:12 |
| Peter Leviston | 3:57:25 |
| Derek Schofield | 3:59:02 |
| Peter Metcalfe | 4:21:07 |
| Ralph Cooper | 4:23:28 |
| Tony Johnston | 4:25:53 |
| Joe Husband | 4:25:54 |
| Peter Knowles | 4:40:34 |
Just to put things in perspective, the first 2 didn't stop for tea and cake at the feedstop. Glenn's ride to finish 31st out of 900 finishers was a belter.
---
Scott Smith comes out of retirement - with a bang!
Scott Smith started off his TT season with a fantastic ride in the SPOCO series.
Scott rode the Ribble Valley promoted 19 mile Circuit of Longridge on Saturday 21st March, finishing 9th with a great time of 49:46.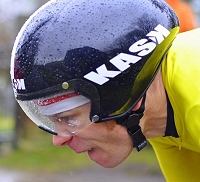 Second claim rider Eamonn Quinn (Lakes RC) also rode the event, finishing in a creditable 56:30
---
NLTTA Combined Clubs 10 mile TT - great turnout!
There was a great turnout for the NLTTA Combined Clubs 10 mile TT on the L105 (Brock) course. No less than 127 riders took part, including 7 from the club.
On a very windy afternoon, there were some great times posted as for most, this was the first time trial of the year, and for some it was their first open event.
Club riders times were...
| | | |
| --- | --- | --- |
| Position | Rider | Time |
| 11 | Sean Casson | 23:24 |
| 30 | Adam McBirnie | 24:35 |
| 33 | Martyn Uttley | 24:46 |
| 83 | Peter Metcalfe | 27:32 |
| 96 | Dane Chapples | 28:27 |
| 103 | Tony Johnston | 28:55 |
| 126 | Jim Lawley (Trike) | 37:54 |
The spin classes have obviously been paying off!
---
Bolton by Bowland SPOCO
On a tough day, Graham Pitcher got the SPOCO season started. Along with 91 others he rode the Rossendale RC organised Bolton by Bowland 11 mile event finishing 70th overall (46th in the L&L SPOCO only riders).
The event was won by Adam Hartley (PH-MAS Cycling) in a time of 24:07, narrowly missing the course record.
---
BCW Torver SPOCO event (L201) - CTT Handbook error
Please note that the date given for the above event in the 2015 CTT Handbook is incorrect.
The BCW Torver SPOCO event takes place on Saturday 18th April (not 11th).
Luckily this means it doesn't clash on the same weekend as the Circuit of the Dales, so you can ride both!
---
Club runs - Sundays, 9am at Tank Square roundabout, Ulverston
In an effort to get a bit of life into the club over winter, we're getting some social Sunday club runs going, the emphasis being very much on 'social'.
There'll be a club run starting at Tank Square, Ulverston every Sunday starting at 9am.
Rides will happen rain or shine so we hope to see a few of you there, and feel free to bring friends along.
We'll start to post some write-ups which you can find here.
---
Spinning Class - Dalton Leisure Centre - every Wednesday night (6:45pm) until April
Sean Casson has kindly set up a weekly spinning class at Dalton Leisure Centre every Wednesday night starting at 6:45pm.
The classes will run through until April.
There are 15 spin bikes available and the total cost for the facilities is £45 per session (so £3 per person).
Please use the clubs Facebook presence (Barrow Central Wheelers Cycling Club) to indicate if you will be attending.

It's proving popular, so come and give it a go.
You will need...
Towel, cycling shorts, cycling shoes with SPD cleats or trainers, drink, £3 and a good set of working lungs!

---
Pat Hercberg takes on an MTBO event at Elterwater
Pat takes on a Mountain Bike Orienteering event at Elterwater.

Bike - check
Helmet - check
Compass - buggar
Map - sh*t
Drink - back to the car...
Anyone got a spare Fred Whitton place for Pat?
Pat was unlucky with her entry for the Fred Whitton Challenge this time around, so if anyone has an entry and they can't make it for any reason, please and make her day!
---
Millom School Cycling Project
A new after school cycling project being run by Siobhan Quinn at Millom Secondary school needs any old bikes, frames, components or parts that you or your friends/neighbours may have lying around in your shed or garage.
If you think you can help in any way (good chance to spring clean the shed!) see below...
---
2014 Prize Winners
The full list of 2014 Prize Winners is now available here.
Give me a ring if you want to come around and claim your trophies/medals.
Thanks... Allan.
---
Knottallow Hill Climb records broken
Dave Huck (Lakes RC) set a new course record for the Knottallow Hill Climb on Friday 15th August.
With a stiff headwind at the top part of the course, Dave beat the old record by 10 seconds, coming in with a time of 6:20.
Connor Furness updated the club record for the course too, with a time of 6:51, beating the previous best by 7 seconds.
Lakes RC take the Hospice Hill Climb Trophy for 2014.
---
Adam McBirnie wins the Circuit of Cartmel trophy
Adam McBirnie was first club rider home in the Circuit of Cartmel TT on Wednesday 30th July, taking the Bill McDonald Memorial Trophy with a time of 36:20. Congratulations Adam.
---
Inter-club 25 - Levens - A great success
Well done all, we came second in the team standings, beaten by the new boys Cleveleys RC.
Lakes RC were 3rd so a good showing by us all down here on the peninsula!
Special thanks to George, Pat and Neil and Steve Jenkin for helping with marshalling and timekeeping and also to Lynsey and Wills Jenks (and another one or two from LRC possibly that I dont know about?).
These events can't happen without them. Also thanks to Howie for getting this going again with Andy Barlow.
Special congratulations to Barry Fittes for coming out and doing a 1:08 at age 80! He was one of the BCW team to first win the trophy for this event.
---
Col McKenna takes on the Tommy Godwin Challenge (205 miles)

On Sunday 23rd March, Col McKenna took on the Raleigh 'Tommy Godwin Challenge', the aim of which is to ride an 'average' Tommy Godwin day of 205 miles.
Col's kindly written up all the gory details of his epic day.
---
Raleigh 'Tommy Godwin 205 mile Challenge'
Those who were at the club dinner in 2012 will remember Dave Barter telling us all about Tommy Godwin's 1939 record breaking feat when he rode 75,060 miles in a year. That's an average of 205 miles a day, every day, for a year!
To commemorate the 75th anniversary of this record, which still stands, Raleigh have thrown down a challenge which put simply, is to do one 'Tommy Godwin' average ride (205 miles) in one day.
You choose the course. It can be absolutely anything you like e.g. circuit(s), out and back, or just 'out'. It simply has to be 205 miles (or more) and be completed in one day.
There'll be a monthly prize draw with £205 of accessories being up for grabs for successful completion of the challenge.
Full details of the challenge are available here, and here is a link to tips, ride reports and the 'hall of fame' for those who have completed the challenge.
Anyone fancy trying it?
---
Fred Whitton Challenge on fixed? - Bonkers
As some of you will know, Howard Lindow of the Lakes Road Club recently rode the 4 Seasons Fred Whitton Challenge route on fixed.
Anyone who's ever ridden the Fred will understand just how tough that probably is (as we're not daft enough to ever want to attempt it).
So, in Howard's own words...
---
Results Finder
I've created a page which allows you to search/filter/sort club results.
Currently I've got all results from 2006 onwards in the system and will add as many of the others as I can as time permits.
I'd be grateful for any feedback on how you find it, any changes you might like to suggest etc etc (just so I feel like I've not been flogging a dead horse ;-)
At the very least it'll be useful for collating who's won what at the end of the season.
You can access it from the Events/Results menu above - just click on Results Finder.
---
Trophy Information

We've just started trying to pull all the trophy information together.

I've put up a trophies page which you can get to here or via the Events/Results option on the menu bar above.

Bear with us as it's a pretty time consuming task! Over the years trophies have been 're-allocated' as courses changed or were scrapped altogether (Barrow-Newby Bridge-Barrow anyone?). We'll try and reflect this in the lists where possible if we can find date/course information.

If you spot any errors or can fill in any gaps then don't hesitate to let me know.
---
So how much faster are we going now?

Looking at an old diary from 1991, I thought it'd be interesting to see how times 21 years ago compared to those of today. I must admit I got a bit of a surprise. The link below shows a couple of events (Circuit of Coniston and Haverthwaite) to compare.
---
Something to read while the rain lashes the windows...
Rules is rules...
A bit of light relief after all those heroics. The UCI might have their rules, but really these are the ones that matter. I particularly like Rule 5 and its accompanying video.
The Rules
Bad Weather Riding...
So, with the snow, rain and wind you think you've been a bit of a hero venturing out on the bike do you? Or perhaps you think that Andy Hampsten's ride over the Gavia in the 1988 Giro was the pinnacle of suffering?
Naaah - This is heroic - Milan - San Remo 1910 edition
Getting the miles in...
A few people have heard of Tommy Godwin the track cyclist, and very good he was too. Unfortunately, not many seem to have heard of another Tommy Godwin.
If you think you're going to get some serious miles in over the winter, then read this and weep. As if breaking the year record with a phenomenal 75,065 miles wasn't enough, he carried on to break the 100,000 mile record in exactly 500 days - at least it makes it easy to work out!
I can't help feeling you'd have to be a bit bonkers to do this, but as the write up says, this record will never be beaten, and you can't say that about many cycling records. The 1939 Stats link is interesting - you can compare your days mileage with what Tommy did on that day ;-)
Dave Barter who's "Writing the Book" (see above) is also writing a book on Tommy 'Mile-Eater' Godwin and the distance record in general, using Tommy's original diaries etc to chart the mileage.
Tommy 'mile-eater' Godwin
---
About the Club
The Barrow Central Wheelers was formed in 1933 when two of the clubs of that era combined. The club gets its name from the Barrow Central railway station where the first club runs started from.
Over the years, the club has taken part in all forms of cycling and cycle racing with some of it's members representing Great Britain at the highest level.
At the present time the club is predominantly a time trialling club promoting 3 open events and 21 club events each year with an annual prize giving held at the end of October.
The club still has a small active road racing section and a touring group that have very close ties to the Cumbria Cycling Club which is active most weekends and organises weekend runs and at least one major continental tour each year.
---