HOSPICE HILL CLIMB SERIES - 2014
All results to date can be found here
Information on the Hill Climb Series is here
---
Round 3 - Woodland Hill Climb (19th May 2014)
The Wheelbase Woodland wacky weather curse struck again on Monday 19th May 2014.
After a glorious day, we could see the storm clouds gathering over Black Combe as we made our way out to the race, and by Christ did it rain just as we started racing up the one mile course. No exaggeration to say it was stair-rods with a backdrop of thunder and forked lightning. Exciting stuff!
The static must have charged up Dave Huck, because he charged up the course for a new record of 5.13. Well done Dave.
Scott Smith set a good Wheelers record of 5.47 after struggling for grip at take off, very closely followed by Andy Whalley.
Continuing his run of climbing form, Shaun Johnston clocked 5.51 and I was next, bang on 6.00. Oli Ingham braved the lightening on his alu framed bike, then Glenn Rhodes decided not to stop at the top and rode straight home to avoid trench foot.
Tyla the Smiler upset his boss by pipping James Dalton by one second. Don't worry James, we got our own back by accidentally loosing Tyla's jacket so he had to ride home in a skinsuit; nice!!! Next up was guest rider Russ Clark then Graham Carrick took a good chunk out of his previous time. Luke Knipe did well considering the Wheelbase team warm up consisted of descending the course in the heavy rain.
Eammon decided it wasnt dark enough and kept the sunglasses on (hopeful as ever), then Big Rog Lindsay gave it a good dig. By the time Toby Dalton was on course the conditions were becoming truly epic, and a jet-ski would have been more appropriate. To bring the absurdity of the race to a close, last up was Brian Pearson on his MTB. This brought into stark contrast the difference between Thursday's Crit race (flat course, beautiful weather, fast bike) and tonights HC debacle (lungbuster, monsoon and a tractor).
Wils counted down the lift off and put a nice donation in the Hospice tin from his charity sport massage. If you fancy getting your legs fettled by Wils after a hard session on the bike, the offer is still open so give him a bell- 01229 585948.
Brian and Elsie were also very generous putting a good chunk raised at the Crit into the Hospice tin - Thank you Pearsons and Wils.
My Mam & Dad gave everyone a shout up the hill and Mike Speight did his best to keep the timesheets dry acting as our Timelord.
Next HC is the DC Cycles sponsored horror of Gamswell at 1900hrs 23rd June. Thank you to everyone that got involved in the race, especially considering the conditions. I must apologise to Wheelbase and all the riders that no times or prizes were handed out at the finish. I have a stack of prizes very generously donated by Wheelbase at my house, so please get in touch and I will get them to all riders who took part.
Cheers Howie.
---
Round 2 - Bigland Hill Climb (22nd April 2014)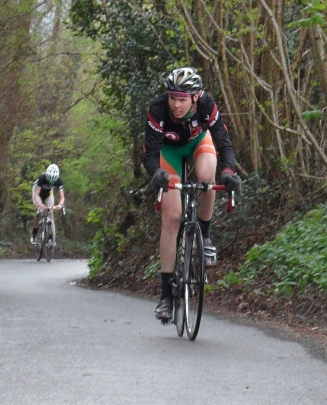 The rain stopped just in time for a really class turn out to the TOPMARK sponsored Bigland Hall Hospice HC (22nd April 2014).
Watching Kent Valley Junior ace Joshua Jardine go from the line was akin to a NASA launch. Our comments of "BL**DY HELL, DOES HE KNOW IT'S A HILL CLIMB?" were answered as he annihilated the course record with a stunning 5:52. 'Chapeau' Young un.
Next up with a ride that also bettered the old record was BCW's Connor Furness showing his comeback season is well on track.
Trainsharp's Lynn Hammel blitzed the Ladies race even though her standing climbing style coupled with a featherweight body meant traction was an issue on the greasy surface.
Next up, BCW's Shaun Johnston opened the lungs & carried on his good return to racing. Lakes RC's Howie won the 'Hill climb Cough' title, then the Kent Valley climbing machine continued with a great ride from another Junior Jardine, this time Connor. I'm not sure what they feed these Lads in Kendal but I want some.
It was like an episode of Dr Who, as there was no time, but several years between BCW's Glenn Rhodes and first Furness Future Flyers rider Jack Griffiths!! (Possible episode titles include- 'The Clocktower paradox' or 'Rhodes ride turns tide')
FFF's Tom Martin showed the club is turning out some strong talent.
On a night of many impressive rides Lakes RC's Graham Carrick was probably the happiest, showing how much he has improved, by beating his previous road bike time on a full MTB with knobblies. Well done mate.
Mike Jewell just got to the start line on time and it was worth his effort as he took the Vets prize.
Next up, Mark Holden took the bragging rights at work with slim advantage over Topmark colleague Paul Nixon.
Top of the local women was Lakes RC's Ladies Steph Angell with a good showing on her first competitive HC. Sam Greenall defied gravity again on his MTB/tractor. God help us when he goes lightweight. Lakes RC's Shelagh Goacher looked far too happy at the top, and managed to just pip Christine Fisher who was struggling to fill some big shoes!
Hazel Sankey was another one looking far too happy on the line and brought the nights racing to close.


Our prizes were handed out by TOPMARK's Paul Nixon and more coins dropped in the hospice collection tin ( http://www.stmaryshospice.org.uk/ ).
Our start line was fettled by Wils Jenkinson ( http://www.yell.com/biz/j-w-jenkinson-ulverston-3500309/ ) and Brian Furness was at launch control. My Mrs/Kids/Mother were marshalling/shouting etc and the timelord was Steve Jenkins.


Thank you to everyone who made the effort to turn up. Whether it's spectating, marshalling, taxiing riders and all the other jobs, your efforts are appreciated.
Cheers.
http://www.lakesroadclub.org.uk/
http://www.barrowcentralwhs.org.uk/index.htm
https://www.facebook.com/groups/159128027629272/
http://www.kentvalley.co.uk/
http://groupspaces.com/furnessfutureflyers
http://www.trainsharpcyclecoaching.co.uk/


Hope to see you on the 19th May (18:30hrs) for the gorgeous Wheelbase sponsored Woodland Hospice HC.


Howie

---
Round 1 - Kirkby Slate Road (30th March 2014)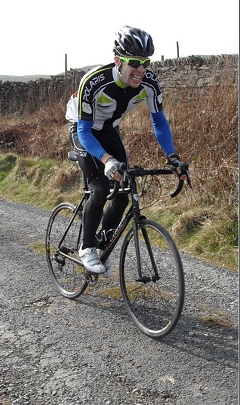 Beautiful weather blessed the GILL CYCLES sponsored Kirkby Slate Road Hill Climb on Sunday 30th March 2014.
Unfortunately it was a low turn out as I managed to schedule a clash with SPOCO's, Sportives and, worst of all, Mothers Day (sorry Ladies!)
The road is still rough as a Badgers bum, with some of the halfway potholes now reclassified as 'Sinkholes'.
The surface didn't slow the days winner who blasted a new course record of 04:01. Take a bow LRCs Dave Huck, congratulations.
Next up was the previous course record holder Connor Furness, which bodes well for a comeback season. Connor was looking sleek & 'pro - head to toe' except for one minor detail. Until he shaves them legs he shall be known as Connor Furryness!
I took joint second trying out a Pansy 39x18 gearing on the yellow peril.
Shaun Johnson stayed cool & hammered up to take first MTB prize.
Next in was first junior, Furness Future Flyers Jack Griffiths showing off the new skinsuit.
Close behind on a nice looking full SUS was James Stott. I am unsure if he was wearing the BCW old skinsuit to go with his hair, or the other way around, but either way, nice effort mate!
Lakes RC Sam Greenall was in under 6 min's which was impressive when you consider the kit - 2 ton MTB, trainers, flat pedals, Nuts! Max Dobie gave it a good dig and was first veteran over the line, (I have a prize at home for you Max).
Hazel Sankey celebrated Mothers day by taking the ladies prize and questioning her own sanity.
Our Timelords were Steve Jenkins and Mike Speight. Brian Furness held us all up on the line and the Lindow clan were cheerleading.
Our sponsor was Ulverston's Gill cycles. A big thank you from me (and us all) to The Watsons for their support & enthusiasm over the years as the shop is changing hands this week. http://www.gillcycles.co.uk/
Finally, please remember that St Marys Hospice requires £6,000 a day to keep its services going, so our rattling tin is a drop in the ocean. http://www.stmaryshospice.org.uk/
Thank you very much for the support and see you at 18:30hrs on the 22nd April at Bigland.
Howie
---